First Tech Federal Credit Union is one of the top credit unions in the nation. They offer great rates and their account opening process is fast. You could earn up to 1.20% APY on your savings with this credit union!
First Tech Federal Credit Union CD Rates are up to 1.20% APY.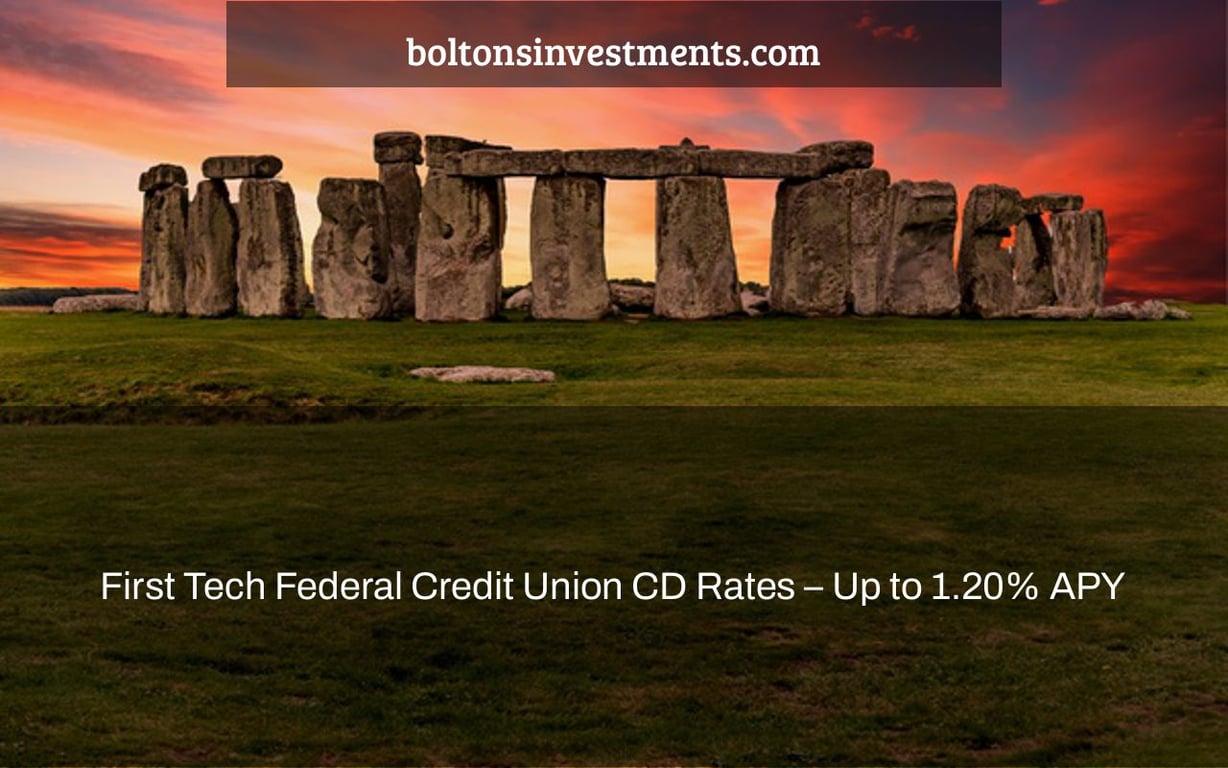 First Tech Federal Credit Union has about $650 million members and almost $15 billion in assets. This credit union was started in 1952 in Oregon by workers of Tektronix and Hewlett-Packard to satisfy the unique requirements of persons working in the technology industry and their families. 
Many technology personnel in Oregon are now members of this credit union. There are additional methods to join if you don't satisfy the work or location criteria. If you're unsure if you should join this credit union and create a CD account, this article will address your questions.
This article will teach you:
courtesy of firsttechfed.com
Traditional and Bump Up certificates of deposit are available from First Tech, with normal and jumbo versions of each. Both will be covered.
Typical CDs
Standard Share Certificates have terms ranging from six to sixty months. Regular CDs demand a starting deposit and a minimum amount of $500, whereas jumbo CDs require a minimum balance of $50,000. These are both very standard credit union certifications. Your rate is decided by the duration of your term, not your balance. Below are the current interest rates.
Standard CD Rates (Regular and Jumbo)
Regular
Jumbo
Term
APY
6 months
0.40%
0.45%
12 months
0.60%
0.65%
24 months
0.80%
0.80%
36 months 
0.95%
1.00%
60 months
1.15%
1.20%
According to FDIC statistics, the national average for a 6-month CD is 0.10 percent, 0.17 percent for a 1-year CD, 0.22 percent for a 2-year CD, and 0.32 percent for a 5-year CD. These rates have been gradually rising in recent months after hitting new lows.
However, many internet banks and credit unions are now providing CD accounts with higher interest rates. Synchrony Bank offers up to 2.25 percent interest, while PenFed Credit Union offers up to 2.75 percent.
Jumbo is a bit better, but it still can't compete with the best accounts, particularly when it comes to the minimum balance. It's also worth noting that First Tech offers fewer term choices than many other banks and credit unions.
Interest on Interest
Interest is compounded weekly and deposited to your account. If you want to use dividends as a regular source of income, you may do so without paying an early withdrawal penalty by specifying that you want to cash interest out and tying an account to it.
Fees for Early Withdrawal
Otherwise, if you remove funds before your account matures, you will be subject to the following Fees for Early Withdrawal: 
A penalty equivalent to seven days' interest will be charged if you remove money from an account that has been open for less than six days.
The Federal Reserve Board Regulation D penalty, which is now zero, applies to early withdrawal from a period of one year or less.
A penalty equivalent to 180 days' interest will be charged if you withdraw from a period of one to two years early.
A penalty of 270 days' interest will be charged if you resign from a term of more than two years early.
These are very ordinary, with the exception of the 12-month punishment. Make adjustments or withdrawals within the 10-day grace period to avoid these costs. This begins as soon as your account matures. 
When all share certificates approach maturity, they automatically renew for the same duration. Make a request to the credit union before to the maturity date or during the grace period if you do not want to renew your account. When your account is ready to mature, you will be notified 30 days in advance.
Getting Your Account Funded
You may fund this account by: 
An internal transfer from a checking or savings account may be scheduled.
Make an ACH transfer from a different checking or savings account.
Connect a direct deposit account.
Make a paper check payable to: 
PO Box 2100
97075-2100 Beaverton, OR
The amount you may put into a certificate is unlimited.
The NCUA insures all regular and bump up CD accounts for up to $250,000 per depositor.
CDs to Boost
CDs to Boost are available in term lengths of 13 to 36 months. These also require a minimum deposit of $500 for the regular accounts and $50,000 for jumbo accounts.
Increase CD Rates
Regular
Jumbo
Term
APY
13 months
0.55%
0.60%
24 months
0.75%
0.80%
36 months
0.90%
0.95%
This account allows you greater freedom to make modifications than a standard CD since it is a bump-rate certificate. After you create the account, you have the option of making one to three more deposits. 
The number of bumps and deposits you're allowed depends on the duration of your contract. You are permitted one of each if your duration is shorter than 24 months (13 months). You are entitled to make one rate adjustment and one deposit every 12 months until maturity if your term is higher than or equal to 24 months (24 or 36 months). You may take advantage of rate rises that occur after you create an account by bumping up your rate and locking in the higher rate until your next bump up or maturity. 
These rate modifications and deposits are free of charge and have no bearing on the duration of your term. If you don't use these choices, nothing occurs, but you will receive a lesser interest rate than you would with a conventional CD.
Customer satisfaction with First Tech Federal Credit Union is below average. There are many customers with real concerns, and they don't seem to be limited to a single product category. People are complaining about bad personal loans, credit cards, savings accounts, and other financial products. 
Poor customer service, excessive prices, and difficulties opening accounts and purchasing items are all popular complaints. Many people equate the customer service provided by First Tech to that of a large bank.
Of course, there are many satisfied consumers who are somewhat less loud. They've had a good working relationship with First Tech for a long time and claim that the credit union is simple to deal with and that customer service is friendly and fast to address concerns. It seems to be very dependent. 
Over 30 First Tech Federal Credit Union branch locations may be found in eight different states. These are they:
California
Colorado
Georgia
Idaho
Massachusetts
Oregon 
Texas
Washington
Furthermore, First Tech is part of a network of 5,600 co-op locations that are shared with other credit unions and where you may manage your accounts. You will be able to use the First Tech co-op network's more than 30,000 ATMs without paying transaction fees as a member. Use this link to discover a branch or ATM near you.
The performance of the First Tech Federal Credit Union app is excellent, particularly for a financial app. It has a Google Play rating of 4.7 out of 5 stars with over 10,000 reviews and an App Store rating of 4.7 out of 5 stars with over 35,000 reviews. 
In terms of functionality and layout, this is a rather conventional banking software, but it works well for most users.
You have a few alternatives for contacting customer care. Any day, any time, you may phone the general enquiries line at 855-855-8805. This 24-hour hotline can answer any questions you may have. If you don't mind waiting a while for a response, you may also log into your account and send a secure message using the web portal. If you live close to a branch, you may always drop in or make an appointment to chat with a banker. If this is not an option for you, virtual appointments are also available.
First Tech Federal Credit Union has four alternative methods to qualify for membership. The first is to be married to, connected to, or living with an existing member. 
The second is to be related to or yourself be employed by a partner company or the State of Oregon. These are not limited to technology corporations, though there are many of these on the list. Schools, retail businesses, and nonprofits are also included. For example, employees of the Bill & Melinda Gates Foundation can join. You can see a complete list of partner or sponsor companies here.
Working for any firm or residing in Lane County, Oregon is the third method to qualify. You're in if you can provide evidence of employment or residency.
If none of the previous options work for you, the fourth and last option is to join the Computer History Museum or the Financial Fitness Association. The general public is welcome to join both of these groups. Don't worry if you don't live near any of these locations. You may submit your application online. 
A $15 yearly membership to the Computer History Museum in Mountain View, California is available. You have the option of deciding how much to pay. The Financial Fitness Association is a non-profit organization that helps members improve their financial well-being by teaching them about money management. A one-year membership costs just $8. You may continue to use First Tech Federal products as long as you are a member of one of these organizations.
You may always contact customer care for assistance with your application if you're not sure whether you qualify.
You may apply online at this link or in person at any of our branch locations. Before your identification is verified, you'll be asked the typical personal and security questions. The setup procedure should take no more than five minutes, and most users will have no problems. 
To become a member, you must first create a Membership Savings account and deposit at least $5. This account pays a 0.05 percent interest rate on all balances and has no monthly maintenance fees.
CDs from First Tech Federal Credit Union aren't awful, and anybody can join, so it's a decent alternative if you want to join a well-established credit union and start saving. While the interest rates may be higher, the deposit minimums and early withdrawal penalties are relatively modest, making these certificates more accessible than others.
However, this credit union isn't without flaws. If you want the greatest interest rates, don't want to join a credit union, are concerned about unfavorable reviews, or don't find the sort of CD or term length you prefer, keep exploring. To discover what you're searching for, go through our other CD reviews.
First Tech Federal Credit Union is offering a CD with an APY of 1.20%. The "first tech rewards savings" is a low-risk investment that will help you build your wealth and save for the future.
Related Tags
first tech credit union
first tech credit union savings rates
first tech savings account
first tech rates
first tech cd early withdrawal penalty