Charles Schwab Private Client Wealth Management has been around for decades. The company offers a range of services including: wealth management, investment advisory and index mutual funds to your account holders.
Charles Schwab Private Client Wealth Management Review is a platform that offers users the ability to invest their money. The platform is designed to help investors in different stages of life.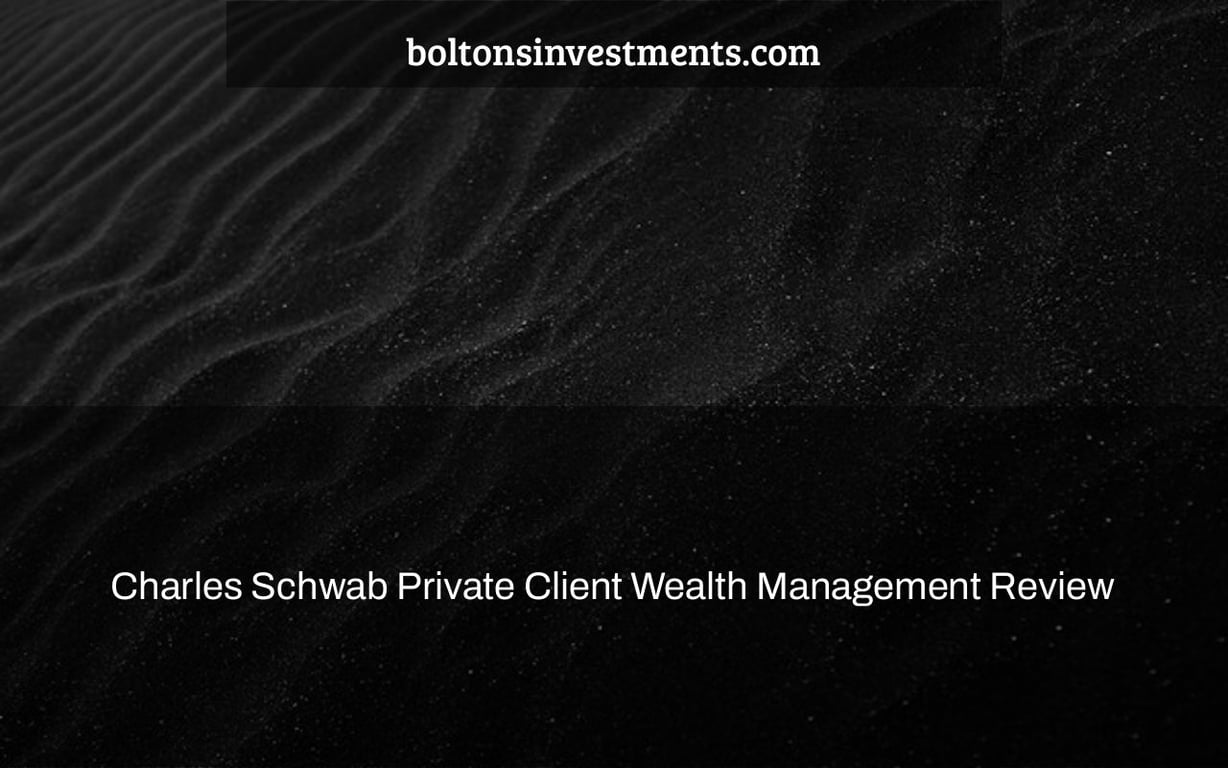 schwab.com is the source of this photograph.
Charles Schwab, founded in 1971 in San Francisco, California, is the world's biggest publicly listed financial services business, with over $7.8 billion in total assets. This brokerage has an estimated 33.6 million customers all around the globe.
Are you interested in becoming a Schwab wealth management client? We'll go over all you need to know about Charles Schwab Private Client and Wealth Management in this post so you can determine whether this business can help you achieve your long-term financial goals–and if the fees are worth it.
This article will teach you how to:
Schwab Wealth Management is a division of Charles Schwab, a financial services firm. This organization can assist you in developing a wealth management plan at any point of your life by providing investment advice and portfolio management services. 
Charles Schwab Private Client offers wealth management services. This is a relationship package that includes both a Private Client Advisor and a Financial Consultant. 
When you have questions, your Financial Consultant will guide you to the appropriate resources and act as a liaison between you and the brokerage business. Your Private Client Advisor will assist you with portfolio management and ongoing investing advice.
To become a Private Client, you must pay a fee and satisfy certain criteria. For further information, see the next section.
Fees + How to Become a Private Client
When applying to become a Private Client, you must have a minimum investment of $1 million. If you already have a Charles Schwab Financial Consultant, inquire about becoming a Private Client.
Being a Private Client comes at a cost. The yearly asset-based charge is 0.8 percent to begin with, but it gradually drops as your investment balance grows. Take a look at the different pricing levels below:
You'll pay a charge of 0.80 percent of your portfolio for the first $1 million in billable assets.
You'll pay 0.75 percent of your portfolio for the following $1 million in billable assets (between $1 and $2 million).
You'll pay a charge of 0.70 percent of your portfolio for the next $3 million in billable assets (between $2 and $5 million).
A fee of 0.30 percent of your portfolio will be charged for any assets above $5 million.
Withdrawals, individual costs for counseling and advising services, internal transfer fees, and direct deposit fees are all free. You will be charged the same costs as everyone else who invests with Charles Schwab.
The wealth management options and advantages discussed in this article are available to all Private Clients.
Charles Schwab's Private Client wealth management is tailored to high-net-worth people. Because this is not a low-cost service, it is not suggested for novices or those who are just beginning to invest. 
To get the most out of your membership with our business, you should already have some defined retirement, investing, and personal wealth objectives. While you'll work with your Private Client Advisor to develop a customized plan, you'll get the most out of their knowledge if you have specific queries about which investments to make.
You must also have a minimum investment of $1 million, which will be a major hurdle for most people. And since the higher the investment, the lower the costs, people with more than $1 million to invest will save a lot of money.
For people with intricate financial conditions or ambitions, Schwab Wealth Management services might be very advantageous. You'll have the assistance you need to make your plan a reality, no matter what changes occur, thanks to continual consulting and monitoring.
As a Charles Schwab Private Client, you will have access to a wide range of wealth management services, including: 
Investing strategy
Preparing for retirement
Creating a tax strategy
Creating an estate plan
Insurance and risk management
Credit and banking management
Family support and education
As a Schwab Private Client, all of the advice and assistance you get is tailored to your specific position and objectives. 
Working as a Private Client with Schwab is a "ongoing cooperation with you in control" that emphasizes a wealth management plan, an experienced staff, and a tailored approach. Let's take a closer look at each of these points.
Strategy for Wealth Management
You will work with your Private Client Advisor to develop a Strategy for Wealth Management that is goal-oriented, diversified, and disciplined. You will discuss the specific goals that you have now and in the future as well as needs that can be met through investing, whether that's growing your personal wealth, planning for your retirement, or something else. 
Schwab Private Client Investment Advisory will provide you access to a broad selection of assets, including stocks, bonds, ETFs, and mutual funds. Options and futures trading, as well as advanced trading, are accessible. Your Advisor will assist you in making investment recommendations based on your income, risk tolerance, and other factors. 
Your portfolio's performance will be assessed on an as-needed basis (when you contact your Advisor) to ensure that you are on track to fulfill your short- and long-term objectives. Your Advisor will assist you in making any necessary changes.
Team of Experts
All Schwab Private Client Advisors and Financial Consultants are highly certified professionals in their fields. On their team, each Private Client has one of each type of wealth expert. Your Financial Consultant will act as a liaison between you and your Private Client Advisor, as well as between you and the brokerage business. The following services will be provided by your Private Client Advisor:
Portfolio analysis and investment suggestions
An evaluation of your money management requirements
Progress monitoring for your Strategy for Wealth Management and adjustments
Risk management, asset protection and hedging methods, executive remuneration, company succession, charity giving, fixed income, liquidity requirements, and more are all issues your Advisor is knowledgeable with. If you have a query or a problem, you may contact your wealth experts. Only Schwab Private Clients get individualized advice from a Schwab Advisor.
Personalized Methodology
The third element of Private Client wealth management is a personalized approach to your plan that involves discussions with your team of wealth professionals, cooperation between you and your team, implementation of the strategy you agree on, and continual assessment of your portfolio's performance. 
Your Private Client Advisor will examine your circumstances with you to assist you develop and adjust your portfolio and financial plan if your requirements change or you believe your approach needs to be reconsidered. Every investment plan is tailored to the specific needs of each Private Client.
The fee of becoming a Private Client includes all of these services. When you meet with your Financial Consultant or Private Client Advisor, for example, you will not be charged a separate fee.
Pros
It's simple to use. The platform is comprehensive and user-friendly, making it an excellent alternative for both novice and intermediate investors. The advisors are competent and among the finest you'll find, and this firm has a reputation for providing high-quality recommendations and overall outcomes.
There are several options. When it comes to investing your money, you have a number of options with Schwab. Charles Schwab provides a diverse range of items to trade as well as tools to help you make educated judgments about them, so you won't feel like you're missing out if you choose this brokerage. Although cryptocurrency possibilities may be better, this shouldn't be a major deterrent.
Exceptionally individualized. Private Client is a high-end wealth management solution with a high level of personalization. Anyone on your financial team will not give you generic advice. You'll also receive above-average customer service and a variety of choices for receiving support when you need it, thanks to a dedicated Financial Consultant and Private Client Advisor.
Cons
Expenses. Although Charles Schwab Private Client's costs are around average for wealth management organizations, they are nevertheless somewhat high. Not only is the fixed charge for Private Client services exorbitant, but so are the trading fees for activities like options trading and margin trading.
There will be no automated balance. When the market is very volatile, your portfolio will not be automatically rebalanced. Other brokerages may be able to help you with this. 
🛑 Your financial adviser will not invest on your behalf. You must contact your Private Client Advisor if you wish to adjust your portfolio or have a query regarding your plan. They will provide suggestions but will not invest on your behalf. You could find it difficult to get the most out of this service if you don't know what questions to ask your adviser. While having the opportunity to contact someone is good, you may prefer something less involved.
If the cost of Charles Schwab Private Client wealth management is worth it to you, it all depends on how you intend to utilize these services.
While there are less expensive wealth management accounts available, this is one of the most complete. If you have huge investment ambitions, a complex financial position, or just a lot of money to handle, this service will be considerably more valuable than if you're just getting started with investing and haven't given much attention to your long-term goals.
You may definitely find a service that allows you to retain a higher proportion of your profits, but if you value customized financial advice and customer care, Schwab Private Client can provide. To get the most out of the service, you should ask your Private Client Advisor and Financial Consultant questions on a frequent basis and make use of the tools provided to you. 
Schwab also provides a money-back guarantee. Provided you're not happy with your experience as a Private Client, you may be entitled for a full refund of all applicable payments if you request it within 90 days of paying the price. This includes your program or advisory fee for Schwab Private Clients. If you have any questions or would want a refund, please contact your Financial Consultant. Refunds are not available for trade fees.
Consider a robo-advisor if you're seeking for a more cost-effective option. Robo-advisors identify and execute investments for you based on your profile using automated investing algorithms. They may offer far lower costs than conventional asset management and counseling organizations since they are mostly digital. You, the investor, will have less to do since the robo-advisor will take care of practically everything.
Overall, if you fit the exact conditions for making the high fees worthwhile, Charles Schwab Private Client & Wealth Management is a good alternative for you. For experienced investors with short- and long-term objectives, it is a complete service with many useful features.
This service is best suited for high-net-worth clients who are willing to pay higher fees in exchange for more tailored guidance and above-average customer service. Beginning investors may not see much of a return on their investment if they become Private Clients. Another brokerage or robo-advisory service may be a better alternative if you're seeking for a lower-cost solution.
The "schwab private client asset allocation" is a service offered by Charles Schwab. It allows users to have a portfolio that will match their needs and goals.
Related Tags
schwab wealth management reviews
charles schwab wealth management fees
schwab private client reviews 2020
schwab private client vs vanguard
charles schwab private client requirements