Alliant Credit Union is a credit union that provides financial services in the state of Illinois. They offer high-interest savings accounts, online and mobile banking, as well as checking and other products.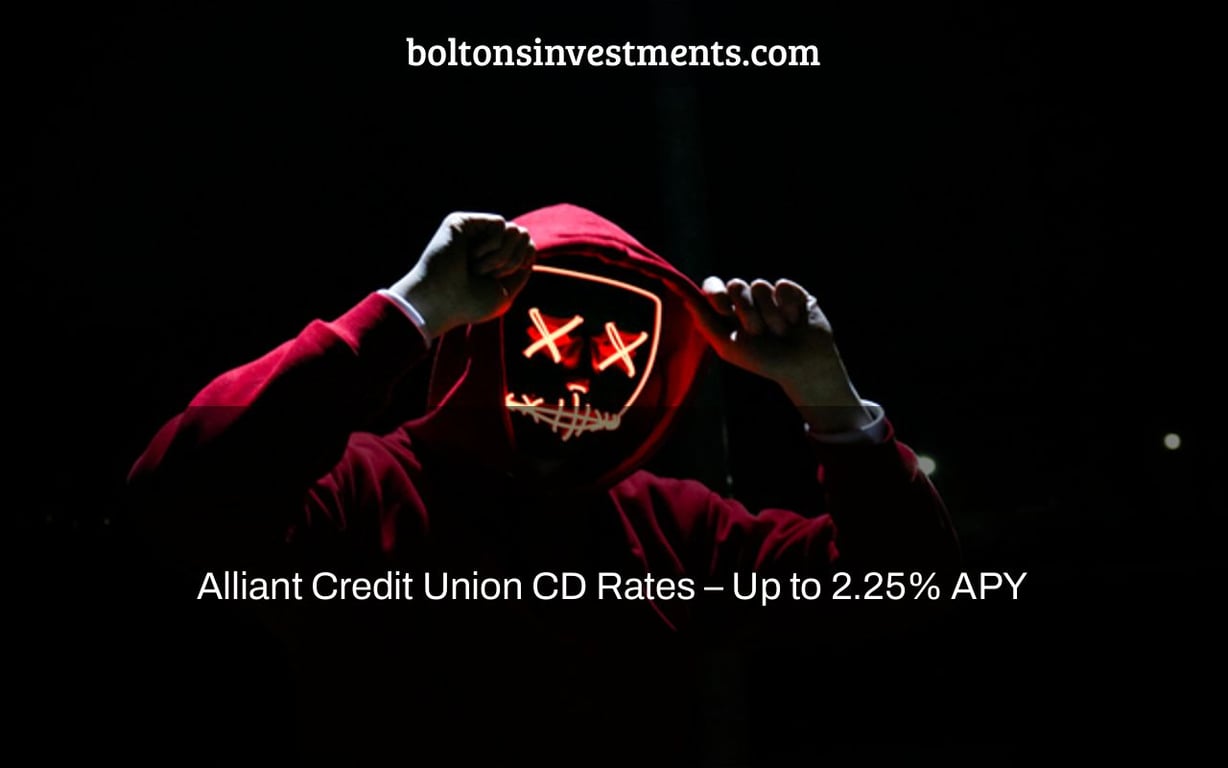 Alliant Credit Union CD Rates – Up to 2.25% APY is a great way to invest your money into the market. Alliant Credit Union offers competitive rates and low fees.
courtesy of alliantcreditunion.org
Alliant Credit Union is the biggest credit union in Illinois and the eighth largest credit union in the United States. Under the name United Airlines Employees' Credit Union, this organization was founded in 1935 by 146 United Airlines employees. Since then, the financial cooperative has been headquartered in Chicago and is now known as Alliant, serving 450,000 members nationally.
Alliant is not just big, but it's also well-known, having won honors like "MONEY's Best Credit Union of 2019," "Bankrate Best Credit Union of 2019," and "Nerdwallet Best Banks 2019." There are many ways to join Alliant and take advantage of competitive CD rates and excellent savings opportunities.
This article will teach you:
CD lengths range from one to five years at Alliant Credit Union. Shorter term certificates, such as 3 or 6 month certificates, are not available, which is rare, and durations are offered in ranges rather than specific lengths.
The NCUA insures Alliant certificate deposits to a maximum of $250,000.
CD Rates
| | |
| --- | --- |
| CD Term | APY |
| 12 – 17 months | 1.25% |
| 18 – 23 months | 1.75% |
| 24 – 35 months | 1.60% |
| 36 – 47 months | 1.80% |
| 48 months | 2.00% |
| 60 months | 2.25% |
To put these rates in context, according to current FDIC statistics, the national average for a 12 month CD and a 60 month CD is only 0.17 percent APY and 0.32 percent APY, respectively.
Before making any deposits, you will be asked to pick between a 12 – 48 month CD and a 60 month CD when you open the CD. If you pick a CD with a term of 12 to 48 months, you will be prompted to specify the precise length of time within that range later in the account establishing process.
A $1,000 minimum deposit is required for all of the following terms. Interest is compounded and paid monthly, and you have the option to withdraw or reinvest it.
Penalties for Early Withdrawal
Early withdrawals are permitted but penalized unless made during the 7-day withdrawal grace period after the maturity of your deposit. You won't receive interest on your money during the grace period if you remove your cash within 7 days, but you'll get everything else back. If you need to withdraw money outside of the 7-day grace period for whatever reason, you'll be charged as follows:
Alliant Credit Union Penalties for Early Withdrawal on CDs:
| | |
| --- | --- |
| Maturity Periods for CDs | Fee |
| 12 – 17 months | Interest accrued up to 90 days after issue. |
| 18 – 23 months | Interest accrued up to 120 days after issue |
| 24–48 months or 60 months | Interest accrued up to 180 days after issue |
If you have a 24-month certificate and must withdraw after 120 days, you will be charged 120 days' interest—the whole interest your account would have earned—but you will still get your original principle in full.
How to Unlock a CD
It's easy to open an Alliant credit union certificate account, and there are four options:
Online
Call (800) 328-1935
Send a certificate application through mail.
At the Alliant branch in person
Alliant Credit Union offers three savings options:
account with a high interest rate,
and a supplementary savings account
Account for children's savings
| | |
| --- | --- |
| Name of Savings Account | APY |
| Account with a High Interest Rate | 0.60% |
| Additional Savings Account | 0.60% |
| Savings Account for Children | 0.60% |
When you join Alliant, your high-rate savings account is immediately started as part of your membership.
To earn interest on a high-rate savings account, you'll need a $5 minimum starting deposit (which Alliant will cover) and a $100 average daily amount. This account's withdrawals, which must be pre-authorized, are limited to six per month per savings account. When you choose eStatements, there are no monthly fees and no maximum balance limitations. Each paper account statement costs $1.
There is no real difference between a high-rate savings account and a Additional Savings Account other than that Additional Savings Accounts are in addition to the required high-rate savings account. A Additional Savings Account also earns an APY of 0.60% and needs an average daily balance of $100 to accrue interest. You may open up to 19 Additional Savings Accounts.
If you don't already have an Alliant checking account debit card, your Alliant savings account will come with Alliant Savings ATM cards. This makes it much simpler to get money since the cards may be used at any of the 80,000+ Alliant-affiliated ATMs.
Then there's the kid's savings account. This one, like the others, pays 0.60 percent APY. It is just for children aged 12 and under, unlike the others. It is necessary to have joint ownership with an Alliant member parent or guardian. For this savings account, everything else is the same.
Alliant has 450,000 members throughout the nation. Alliant now has assets at over $11 billion and loans worth $8.5 billion.
Despite the credit union's size, there is only one physical Alliant Credit Union branch, which is the Chicago headquarters. There are no other options for in-person banking. Alliant does not engage in shared or cooperative branching with other credit unions, but it does provide access to over 80,000 surcharge-free ATMs, some of which are owned by Alliant and some of which are shared with other credit unions.
Alliant Credit Union membership is open to almost anybody who meets the following five requirements:
You are a current or former employee of an Alliant-affiliated company or organization (search them here).
An Alliant member is someone in your immediate family or your domestic spouse.
You live or work in one of the eligible communities near Alliant's headquarters in Chicago, Illinois.
You belong to one of the qualified organizations.
Foster Care to Success is your member ($5 membership fee paid on your behalf by Alliant).
If you don't meet the other criteria and choose for option #5, all you have to do is express your support for Alliant's partner charity, Foster Care to Success, by allowing Alliant to give $5 in your name. This is how anybody may become a member. This organization connects foster youth approaching the end of their foster care experience with school and job options and support.
Alliant's flexible eligibility standards allow not just U.S. citizens, but also non-U.S. citizens, to join. Residents are eligible to join as long as they have a valid Social Security number or an ITIN that has not expired.
The "alliant credit union mma interest rates" is a rate that up to 2.25% APY. It is offered by Alliant Credit Union, which is located in Wisconsin and Indiana.
Related Tags
alliant credit union savings rates
alliant credit union interest rates
alliant credit union certificate of deposit interest rate
alliant credit union savings account
alliant credit union ira rates