There are countless ways to spend your tax refund, from paying off debt and repaying student loans, to opening a savings account or finally buying that car you've been dreaming about. Here are the 10 best ways to use your tax refund for 2018.
The "double your tax refund" is a great way to spend your tax refund. Here are 10 ways to do it.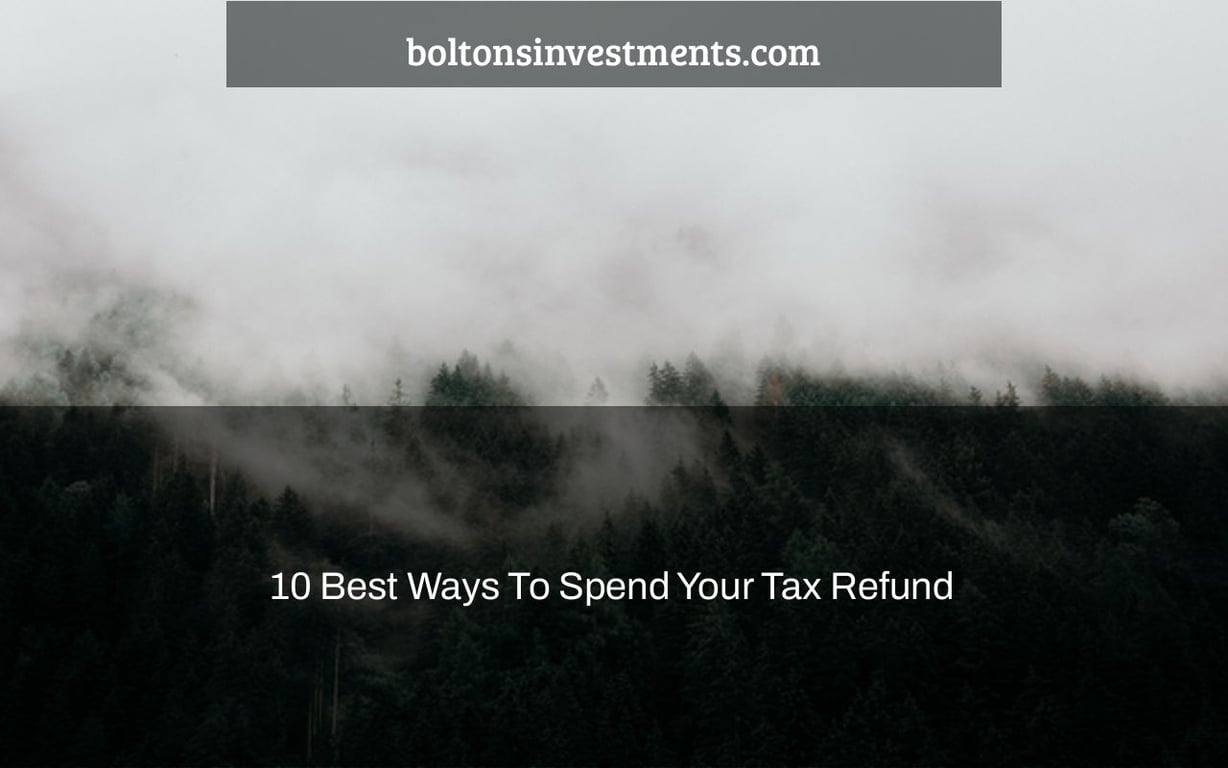 Do you anticipate receiving a refund from the IRS this year? Many Americans, particularly parents with children who qualify for the Child Tax Credit, get a tax return from the IRS during tax season.
Aside from tax preparation, receiving a lump amount of money from the government is thrilling! When you see that amount in your bank account, you may be tempted to cash the check and spend it all on your next trip, but resist the temptation.
Take that money and put it to good use for yourself, your children, and your financial future. With these suggestions, you may set yourself up for financial success.
10 Ways to Ensure Financial Success with Your Tax Refund
1. Get out of debt
Consumer debt prevents you from making progress. When you're buried in debt, it's difficult to think about the future. Paying off debt, on the other hand, is one of the most important and effective approaches to enhance your financial future and maintain financial stability.
The children will benefit from their parents' financial stability. If you have a lot of debt, especially if the loans are predatory or giving you a lot of worry, paying them off should be your first priority.
2. Increase the amount of money in your HSA (if you are eligible)
Do you have access to a Health Savings Account (HSA)? Aside from medical bills, an HSA may be used for a variety of activities. Children, for example, need spectacles, braces, sunscreen, diapers, wipes, formula, and other items that your HSA may cover. If you don't already have one, set up a separate savings account for these major costs that arise often in the lives of young children.
3. Invest in a 529 or UTMA plan.
Have you have a lot of school debt? Do you have any friends or family members that are drowning in student loan debt? Do you know anybody who had to forego one or more school opportunities due to financial constraints? Do you want for the same for your children? I didn't think so. Investing in a 529 plan or UTMA provides your kid a head start in adulthood. Setting your kid up for a bright future is one of the most important presents you can offer them.
4. Think about the future.
I understand how you feel. You're aware that you need to write a will and get life insurance, and you'll get started as soon as you have the time and money to do so. The money is here, and the moment has come. No parent likes to consider the worst-case scenario, but we must consider our children's future and well-being as parents, particularly if we may not be able to care for them.
5. Hire a tutor for your child
Tutoring may be a costly venture. If you tutor, it's a terrific way to earn some fast money. It's less enjoyable when you're the one who has to pay for instruction. If your kid needs further assistance, now is the time to take advantage of the extra funds available. Getting additional aid for your kid as soon as feasible can benefit them much more later.
6. Extracurricular Activities Must Be Paid For
Extracurricular activities have been shown in studies to benefit a child's brain development, self-esteem, cognitive abilities, and responsibility. Taking additional art, music, or sports courses may benefit any kid, but it is especially beneficial for a struggling youngster. Participating in a sports league or taking courses in something that interests your children may help them engage in fun activities outside of the classroom. Because extracurricular classes may be costly (not to mention the expense of equipment), this might be an opportunity for your kid to learn or try something new.
7. Purchase Books
Reading is essential for children. Kids who own their books fare better in school and are more likely to succeed. While there are a few programs where you may acquire free books for your kids, it typically takes more than that to build up your child's library. Spending money on books that your children desire to read or that your children will read is always a good investment! Check out these novels if you're seeking for some book suggestions!
8. Create an emergency fund
Are you ready for whatever life has in store for you? Some of life's most prevalent stresses (unemployment, relocation, natural catastrophe) may be mitigated by being financially prepared. One of the most essential things you can do for your financial stability is to have a large emergency fund. Start with $1,000 and work your way up from there. Your children will appreciate you taking care of this now and having a safety net in case things don't go as planned.
9. Refill some sunk funds
Do you have any liquid assets? Having money set aside for unexpected needs may help a family's budget run smoothly. Clothing, summer camp, dentists, auto maintenance, and education expenses are all planned activities that are difficult to adjust month to month. (Try buying all of your back-to-school items with your extra spending money; it won't work!) Setting money away in a separate account for these expenses is a wonderful method to ensure that you have the funds when you need them.
10. Put Money Aside For Retirement
Planning for the future properly is one of the finest strategies to assure financial success for you and your children. While you can and should consult a tax expert to properly manage your taxes, including how to prepare for retirement, you may begin saving for retirement today. Although your tax refund may not be qualified for the tax advantages of a retirement account, you may use it for ordinary expenditures and contribute it to your retirement fund with your earned income.
A Penny Saved
Hi! I'm a millennial parent who is interested in personal finance. I've always been "into" personal finance, but following a time of lengthy unemployment, I was motivated to create my blog. That encounter fundamentally altered my perspective on money and the necessity of easily available personal financial education.
The "how to allocate tax refund" is a question that many people ask. The 10 best ways to spend your tax refund are listed below.
Related Tags
how to spend your tax refund
how to use your tax refund wisely
smart ways to spend your tax return
ways to invest your tax refund into your health
what to buy with tax refund